And this time… we're gonna get funky. You heard that right. Electric Hawk is back with our THIRD edition of Harmony virtual music festival, and we've got something pretty special in store.
Drum roll please. This May 16-17th weekend, we're proud to present Funkytown and an (almost) criminal Lost Dogz takeover for Harmony festival.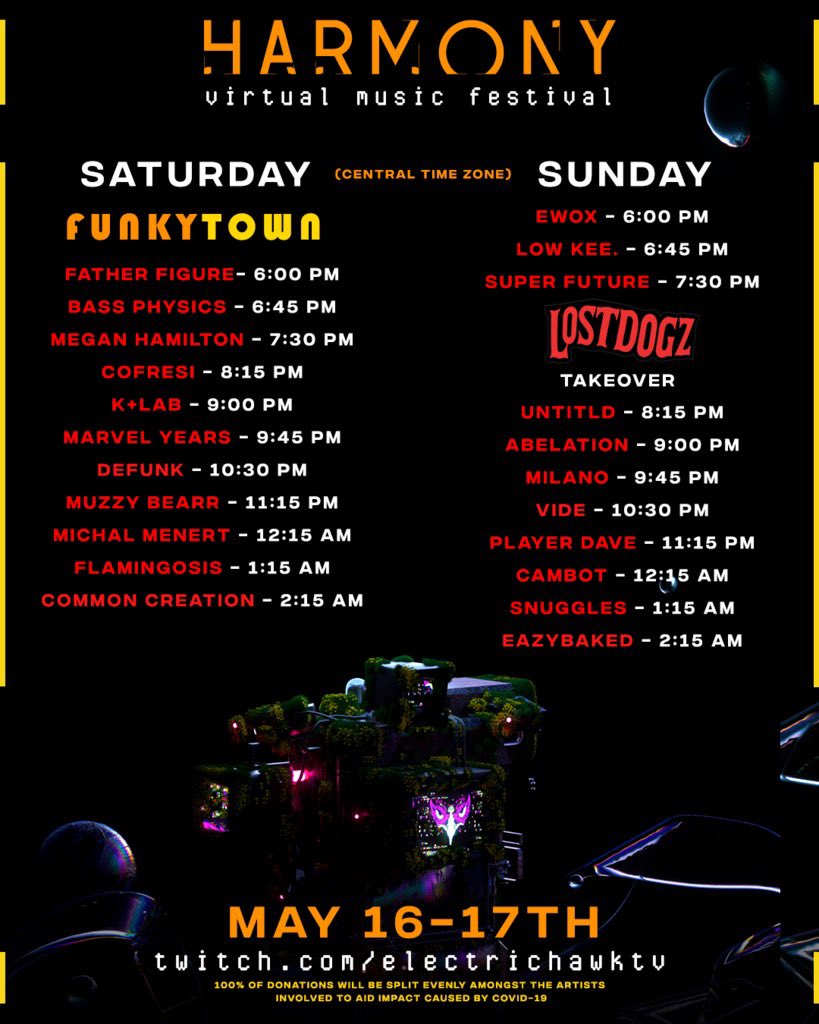 Saturday we're taking you straight to Funkytown, ladies and gents. Starting off at 6 PM central, Father Figure will be kicking off the night by serving up only the finest bass that'll still make you wanna groove. He'll be followed by Bass Physics, the one and only Megan Hamilton, Cofresi, K+Lab, and somehow there's still more.
No bias here, it's gonna be bonkers.
Saturday night will also be graced by the incredible Marvel Years, Defunk, Muzzy Bearr, Michal Menert, Flamingosis, and Common Creation. The dancing DON'T STOP, baby.
Sunday, we're bringing you something completely different to the table.
Tune in for Ewox, low kee., and Super Future to get things rolling before a Lost Dogz takeover you won't be forgetting anytime soon.
Who let the dogz out? I don't f*cking know, but this lineup is out of control. Abelation, Milano, Player Dave, Eazybaked… Sheesh. They came straight for the throat with this one. Plus, you didn't hear this from me, but there may or may not be a surprise planned during our Sunday stream. Hint hint, wink wink.
Simply put, this lineup is just some serious. Hot. Underground. Talent.
There's just no two ways to look at it. But let's be real here, did anyone expect anything different from the birbs? Whether it's funk, freeform bass, techno, DnB… we're always hunting the newest music for you.
As always, 100% of donations received from this event will be going directly back to the artists. Make sure to RSVP here, and we'll see you acting up in the chat. !911!